Carolina Gin
$33.95 | 750 ml | 80 proof
Product Code: NC-66333
Unique Botanicals
Our gin is created using a classic mix of botanicals, as well as a few unique extras to create a citrus-forward flavor.
Available Now
Our Carolina Gin is now available directly at our distillery and through NC county ABC stores.  Please contact your ABC store to request us.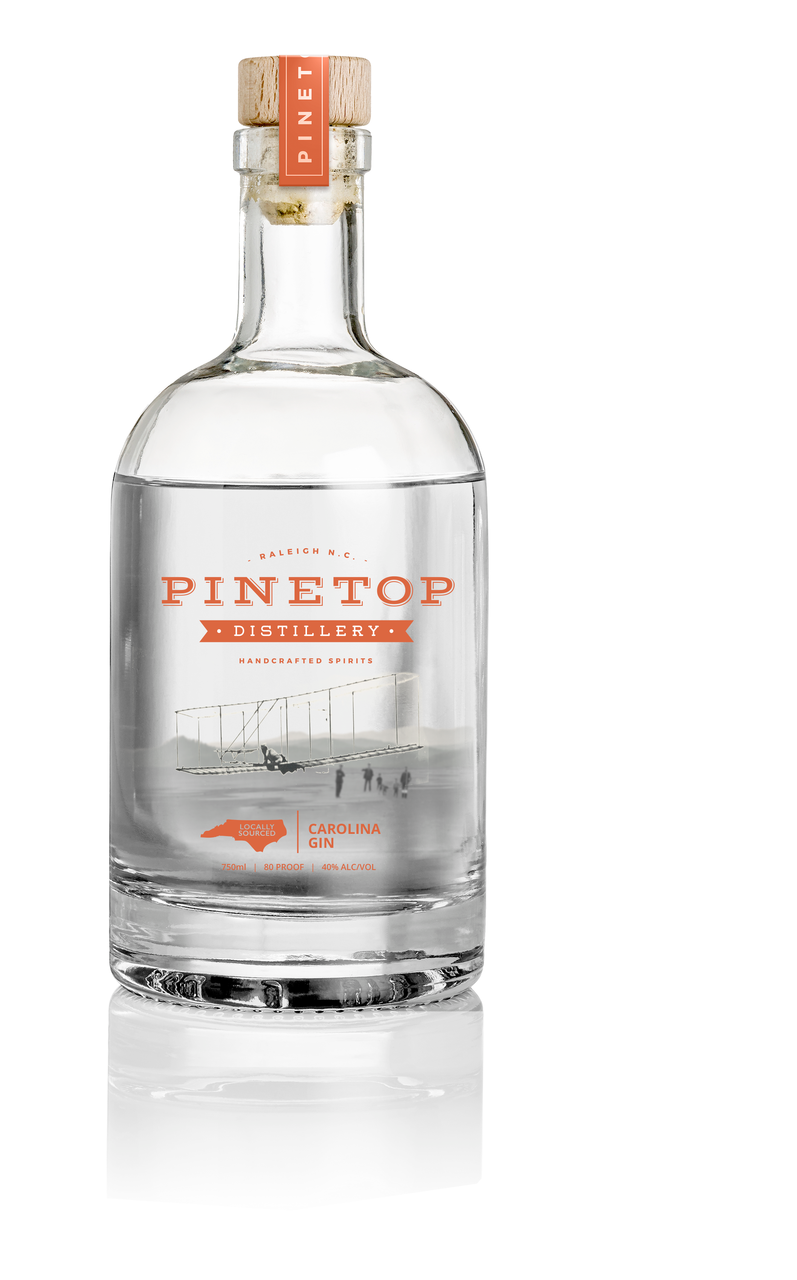 Carolina Moonshine
$29.95 | 750 ml | 80 proof
Product Code: NC-66336
Smooth Taste
We exclusively use locally-sourced corn, wheat, rye, and barley. None of our spirits are supplemented with corn-ethanol or sugar, allowing us to deliver a distinct and smooth flavor of a small batch spirit.
Modern Distillation
We run a custom designed and welded continuous still that slow runs our wort 24-hrs a day, allowing more consistency in our output. We finish our spirits through a fractional column to really strip out impurities and create a smooth finish.
Where to Buy Pinetop Spirits in North Carolina
*If we're not in your county, ask your local store to order our spirits using our product codes above.  Send us a message so we can facilitate your enjoyment of Pinetop.
APEX
1415 W William St
Apex, NC 27502
BRIER CREEK
7911 ACC Boulevard
Raleigh, NC 27617
CARY
3615 SW Cary Parkway
Cary, NC 27513
CAMERON VILLAGE
420 Woodburn Rd
Raleigh, NC 27605
CREEDMOOR
7336 Creedmoor Rd
Raleigh, NC 27613
MORRISVILLE
4009 Davis Drive
Morrisville, NC 27560
SANDY FORKS
7112 Sandy Forks Rd
Raleigh, NC 27609
SOUTH SAUNDERS
3320 Olympia Dr
Raleigh, NC 27603
HAW RIVER
145 Tunnel Rd
Asheville 28803
ATLANTIC BEACH
603 W Fort Macon Rd
Atlantic Beach, NC 28512
BEAUFORT
1791 Live Oak St
Beaufort, NC 28516
CAPE CARTERET
205 WB Mclean Dr
Cape Carteret, NC 28584
EMERALD ISLE
8700 Emerald Plantation Unit DD
Emerald Isle, NC 28594
MOREHEAD CITY
4915 Arendell St
Morehead City, NC 28557
NEWPORT
7015 HWY 70
Newport, NC 28570
CLAYTON HWY 70
12487 US 70 Business Hwy
Clayton, NC 27520
CLAYTON HWY 42
4879 NC HWY 42 E
Clayton, NC 27427
MARION
484 East Court St
Marion, NC 28752
CORNELIUS
19701 Statesville Rd
Cornelius, NC 28031
LANCASTER HWY
16019 Lancaster Hwy
Charlotte, NC 28277
MIDTOWN
125 Cherry St
Charlotte, NC 28204
SOUTHPARK
3904 Colony Rd
Charlotte, NC 28210
UNIVERSITY
9740 University City Blvd
Charlotte, NC 28213